Virtual Campuses: Empowering Education through the Metaverse
The emergence of Metaverse-based virtual campuses has been followed by a promise of providing an unparalleled immersive learning experience for both schools and corporate offices. Yet, has it really been able to bring about such a drastic transformation?
Home
»
New in Tech
» Virtual Campuses: Empowering Education through the Metaverse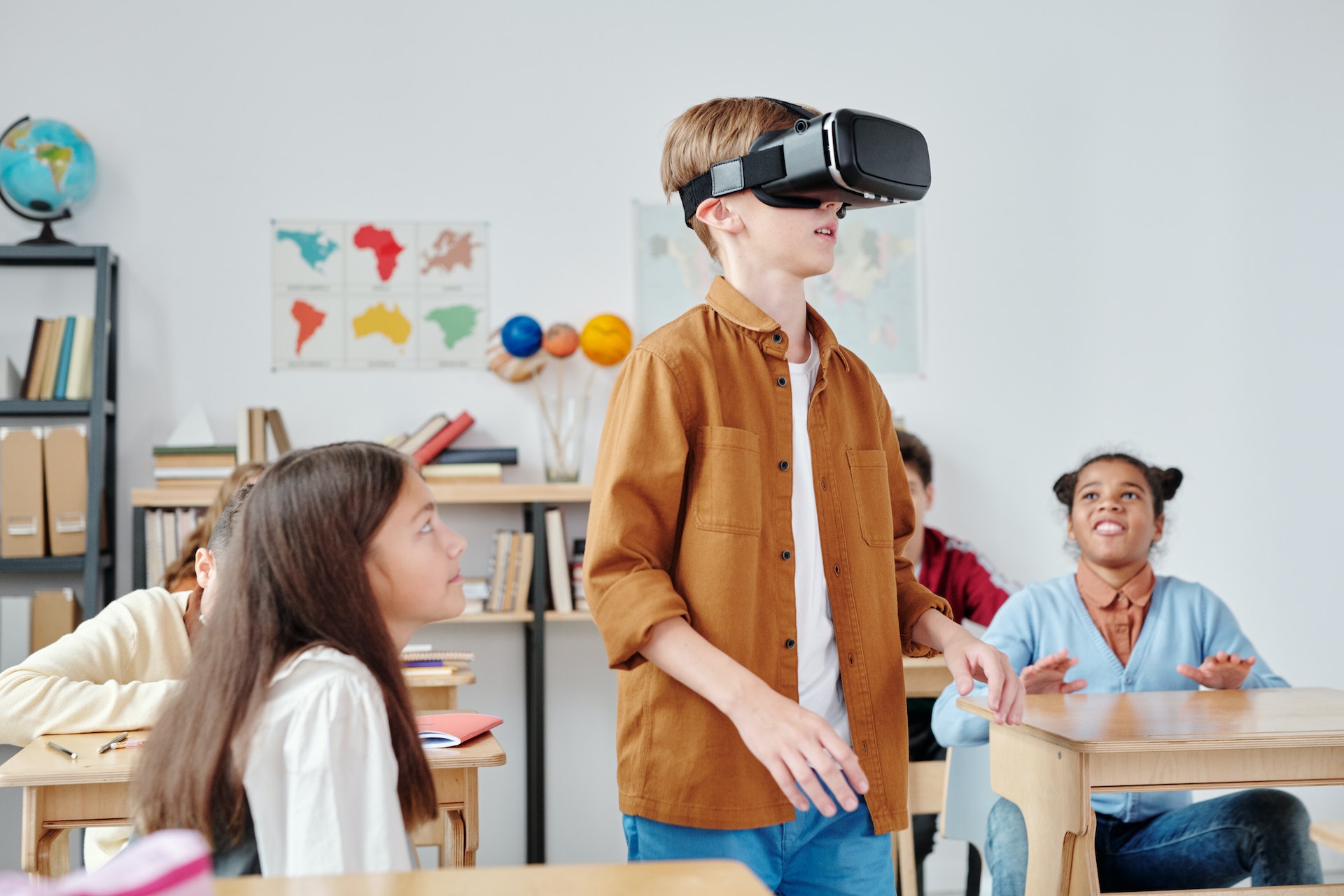 Virtual Campuses: Empowering Education through the Metaverse
August 16, 2023 9 MIN READ
With the advent of technology, an increasing number of people are beginning to accept the virtual space as an effective tool to enable people to connect, learn and work together remotely.
This 3D virtual space which is stimulated to represent life-like conditions is called the metaverse. Owing to the rapid rise in popularity of such virtual spaces, several developers are investing considerable effort and resources to refine the technology that powers such experiences – with the hope of tapping into the lucrative metaverse market.
Both work and learning are inherently social activities, yet, currently, digital learning and work from home severely lack adequate engagement and motivation. According to Stanford University, this may lead to "Zoom Fatigue" and cause a drop in the overall efficiency of the learner or the employee.  This is where the metaverse virtual campus comes into the picture.
Transforming Education and Workspaces
Due to the lack of physical presence and the limitations in the traditional methods of virtual learning, a growing gap seems to have surfaced between the learners and the educators who have, regrettably, failed to provide the same level of engagement and interest as they could in physical sessions.
The metaverse, with its successful integration of virtual and augmented realities, has emerged as one of the best alternatives to bridge this gap.
Initially coined by Neal Stephenson in his 1992 novel Snow Crash, Metaverse in the simplest term means a graphic, virtual space that allows people to work, play, shop, and do anything else that humans can do together in real life. 
Though in the early days, it essentially consisted of three elements, namely, a VR interface, Digital Ownership, and Personalized Avatars, with the rapid advancement of technology, metaverse has emerged as a fully immersive 3D environment where physical and virtual realities have come to coexist.
By providing a 3D immersive learning space with a global reach, the metaverse has successfully revolutionized learning both in education as well as the corporate sector.
The sections ahead will discuss the pillars of the metaverse and what makes it such a futuristic, yet inevitable reality of our collective future:
Digital Twin Technology
With the active implementation of Digital Twin Technology, which is basically a real-time virtual representation of a real object or system, developers have successfully established a virtual campus in the metaverse where learners can have a collaborative and immersive learning experience.
Although still a developing concept, the Digital Twin Technology has successfully helped create a metaverse that aptly represents the real world around us. So, you can personalize your avatar, go shopping, buy a house, have a pet, socialize and do everything that you would in your day-to-day life in reality.
This has helped stimulate a life-like environment that most individuals can connect to and indulge in. Thus, it goes a long way in powering virtual classrooms and workspaces where students and learners can attend their classes as if they were present in that office or class.
Learn, Collaborate and Engage
Imagine being able to attend real classes, carry out actual experiments, socialize with your colleagues and classmates, explore the campus, and much more without keeping a foot out your door!
It would be so much more interactive than simply learning through a video call.
This is what the metaverse virtual campus enables its users to do. It provides a virtual world where training can be provided through virtual demonstrations and work practices, which drastically improves the level of learning engagement and reinforces the retention ability of the learners.
The virtual campus brings with it several advantages, some of which have been discussed below:
Understanding Based Learning
One of the biggest pitfalls of traditional online learning is the temptation to simply memorize the concepts and not try to understand them instead. It is usually due to the reduced possibility of the student engaging and experimenting with the concepts physically. This eventually affects the learning of the student as he can seldom visualize and explore the concept on his own.
Thus, it is not surprising that a report by Accenture found that around 70% of all the learners forgot the content taught within 24 hours and over 90% of them forgot the content after a month. Moreover, each learner has his own pace of learning and the online mode of teacher-directed knowledge delivery tends to ignore this vital fact.
The virtual campus model takes these issues into consideration and enables an active, practical method of learning where the students can effectively take part in the learning process by themselves.
It uses virtual reality (VR) and augmented reality (AR) to take learning to the next level. Imagine being able to enter the human heart and explore more about it or be a first-hand observer and view the greatest moments in history with your own eyes. Would it not be so much easier to understand the concepts and retain them in your memory if you could imagine and engage with them in real-time?
This is exactly how the metaverse transforms the way students can learn. It goes beyond the traditional methods of learning and seeks to teach the students using virtual demonstrations, collaborations, and engagements.
Improved Engagement
Students can use personalized avatars to take part in several engaging tasks and skill development programs in an immersive social space which is a virtual representation of their physical classrooms. It also allows students to engage in collaborative exercises where they can interact with their colleagues and learn to work as a team.
These claims are not without evidence; a recent study found that learners taught using the virtual campus approach are likely to remember the knowledge imparted 33% more effectively than their counterparts who are taught through the traditional modes of online learning.
This mode of learning also provides each learner with a customizable learning package which helps them adjust the learning to their personal pace and time schedules to ensure that the learners don't miss out on any essential stage of their learning curve.
Economic Alternative
In addition, the virtual campus also has an economic advantage since it allows students to avoid prohibitive travel and living costs by bringing the campus experience right to their doorstep.
Considering the fact that technological advancements have made devices such as VR headsets quite affordable, it has enabled workers from various locations to come together and work harmoniously with their colleagues and take part in team building exercises with their personalized avatars.
One might say – it is almost like living the university life, without having to physically attend college. So, students can go out to their favourite hangout spot, meet their friends, socialize, play games with each other and do everything else right from their own rooms.
Constructive Collaboration
With long hours of work and a tremendous workload, it can be very hard to ensure that the team remains focused on the 2D environment of a video call. This could severely hamper the productivity and responsiveness of the employees by creating a dull and depressing work environment.
With the virtual campus, the employees can instead use their digital twin to engage, collaborate and cooperate with each other like they would in physical concrete-made offices. With hybrid work becoming a part of the corporate life, the time spent by the employees in the metaverse carrying out different tasks ranging from collaborative tasks to leisurely activities would become synonymous with the corporate culture of the future.
Are We There Yet?
The metaverse is one of the most revolutionary tech offshoots of the present and rightfully so. Developers across the globe have invested tangible and intangible resources to consistently refine this technology and take it to the next level.
With the progress of technologies such as AR, VR and Artificial Intelligence, several new avenues have opened up for the metaverse and one of them is the concept of virtual campuses.
While still in its nascent stage, there have been several landmark developments which have fast tracked the development of the metaverse with several tech companies collaborating with educational institutions to create 'metaversities'. One such instance is that of the Invact Metaversity. 
Formed by the merger of the metaverse and a university, a 'metavarsity' provides socially immersive education programs tailored for students and industry professionals. It has been deemed as a revolutionary shift from the traditional e-learning methods to a more engaging and practical learning model.
The metaversity could revolutionize training and skills development by using AI-enabled digital coaches – which can then adapt to the learning habits of the learner and provide a more comprehensive training program. These digital coaches would be highly scalable and can be deployed on a need-basis and programmed to smoothly carry out relevant tasks.
From Ideation to Universal Reality: The Challenges for Metaverse
Regardless of the hype surrounding it, metaverse still has several challenges to overcome, before establishing itself as a dependable alternative to the existent modes of online learning, those being:
Hardware
The metaverse relies heavily on hardware such as Virtual Reality, Augmented Reality and Mixed Reality devices and although technology has made them much more affordable in the present day, they are still not light, portable or even easily accessible by most people. This acts as a serious drawback for the wider adoption of the metaverse.
Privacy & Security
Considering how common data breaches are in the present world, the privacy of the metaverse is indeed a concern.
It is primarily because apart from financial and social media data, the metaverse would also store your behaviours. Considering the rapidly increasing popularity of the metaverse, it would soon transform into a huge data mine which can be at serious risks of data breaches by hackers.
Mental Health & Addiction
While learning in the metaverse may be engaging and interesting, it may also prove to be highly addictive and also pose a serious threat to the mental health of the learners in the form of anxiety and depression.
Further, akin to traditional online learning, this four-walled model of learning can end up promoting a sedentary lifestyle, thereby aggravating the risk of health problems such as obesity and heart diseases in the long run.
Beyond the Horizon
While there has been rapid development in the metaverse, getting people to participate in it using virtual reality headsets is still something that has not percolated down to the masses. However, it simply is something that ought to be tried to understand the massive potential it holds in transforming the future of telepresence.
Imagine being able to connect with people across the world, work and learn remotely and transport yourself to places you've always wanted to visit. These are just a few possibilities these remarkable VR devices – which cost almost the same as a game console – can open up for users.
With hybrid work becoming the new norm for learners and employees alike, these virtual campuses have created a new dimension of learning which focuses on increased engagement, understanding, and a student-oriented teaching method.
And while there is a long way to go for these virtual campuses to be an effective alternative for the traditional methods of online learning, it has definitely bought up a new perspective on how learning can be made immersive and engaging.
One thing, however, that is certain is that virtual campuses based on the metaverse hold immense potential and are surely one of the technologies that may be worth keeping an eye out for in the next few years.
Let's Connect
Leave a Message